Tech 2 Air Unit
Fighter/Bomber
Torpedo Bomber
Gunship
Air Transport
Guided Missile
Gunships
Tech 1 Light Gunship
Tech 2 Gunship
Tech 3 Heavy/AA Gunship
Experimental
Transport units
Tech 1 Light Air Transport
Tech 2 Air Transport
Tech 2 Gunship
Tech 3 Heavy Air Transport
UEF T2 Gunship:  Stinger

Light gunship. Equipped with one riot gun and a single transportation clamp.[ e ]
Build costs
 

-6000


 

-300


2000
Max health
1100
Speed
Fuel
12 (Air)
6:40
Veterancy
6 ( +2/s)
Intel (radius)
Vision: 32


Direct Fire - Projectile

Damage per second
60
Projectile damage
20
Rate of fire
3 Projectiles/s
Range
22

Death

Damage
100
Damage radius
1
The UEF T2 Gunship, nicknamed the Stinger, is a UEF unit. It is a gunship, and arguably the best of the T2 gunships for it's high hp and transport clamp.
The Stinger mounts a Hells Fury Riot Gun, which features a high DPS and ROF, thus making it very effective against any slow-moving target. However, it has no damage radius, and therefore must single out one enemy at a time. It provides excellent close air support for advancing armies by picking out specific targets such as higher tech units.
The Stinger also possesses a transport hook that can carry one T1 or T2 unit.
Tip: Attach a T1 Mech Marine to the transport hook for an additional 21 DPS, since the MM can fire from a transport, or an engineer so you can destroy defenses around the target and hack it.

It is less powerful than the UEF T3 Gunship, but cheaper and better suited against moving targets, as well as having a transport clamp to move engineers, flak AA, combat units, or a mech marine for extra DPS.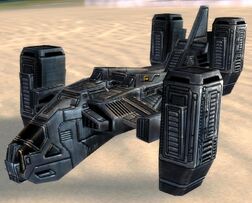 Community content is available under
CC-BY-SA
unless otherwise noted.