Mobile Artillery Units
Tech 1 Mobile Light Artillery
Tech 3 Mobile Heavy Artillery
Experimental
T3 Mobile Heavy Artillery are used for cracking defenses. All factions have a T3 Mobile Heavy Artillery. Mobile Heavy Artillery is important as it allows a commander to deal with the hordes and/or defenses one encounters at T3, especially if they lack shields.
Factional Differences
Edit
All the T3 Heavy Artillery have their factions' standard traits.
The UEF Demolisher has an extremely high fire arc, and overall well balanced stats including good accuracy. Its combination of Initial shot damage and Rate of fire gives it a little higher DPS than the others.
The Cybran Trebuchet is far less accurate but has a large damage radius and is great for random destruction. It has by far the lowest initial shot damage, but its comparatively high rate of fire mostly makes up for this.
The Aeon Serenity alone can fire on the move without deploying, and features decent accuracy and high initial shot damage. The first of these allows it to kite as a protection from enemy artillery and tactical missiles, and so is an important characteristic. However, its blast radius is almost non-existent and its rate of fire is absurdly slow, bringing its DPS just a bit below the others.
The Seraphim Suthanus fills a middle ground between the Demolisher and the Trebuchet, with the initial shot damage and rate of fire of the former and the damage radius and lowest accuracy of the latter.
For Attack
Edit
Typically, the purpose of mobile artillery is either to bombard fortified bases or to disrupt large forces of enemy units. Their relatively large damage area, and high initial damage make them very effective against clustered enemies. They can also be used to good effect in base assaults; mobile artillery is capable of outranging any point defenses of equivalent tech level, making them invaluable against defensive positions which have not yet been fully established, or ones over-reliant on stationary defences. However, any enemy artillery under shields, whether T2 stationary artillery or T3 mobile artillery, or even T2 Tactical Missile Launchers, can pose a serious threat to your own artillery, which (with the exception of the Aeon) must remain stationary whilst firing.
As T3 mobile artillery have such low health, it is highly advisable to protect them with mobile shield generators, or if Cybran with mobile stealth generators  (which can help to slow enemy retaliation against artillery fire, even though the direction the shells arrive from will tell them roughly where the artillery is positioned). Similarly, they are vulnerable to air attacks so sufficient mobile anti-air units should accompany them. Finally, some direct fire units should act as an escort in case of a ground attack.
For Defence
Edit
Much as with T2 artillery installations, T3 Mobile Artillery can be used for defence. While they have a smaller maximum range (only 3/4 that of the fixed installation), they have a larger damage radius, comparable DPS and generally cost 1/2 of the energy cost and 1/3 the mass cost, often making them far more attractive if long-ranged base defence is needed. They require no energy to fire, and perhaps most importantly, their accuracy is substantially better than T2 emplacements, making them particularly effective against oncoming experimentals or navies. In a defensive role, their low health can be boosted by placing them under shield generators.
Countermeasures
Edit
When encountering enemy mobile artillery, an all-out rush is rarely a good idea, as their large damage and spread can make quick work of your land forces at range. Against a skilled player, your units will run through the enemy barrage, only to arrive heavily damaged, and fall quickly to their own direct-fire units.
Gunships are a very effective counter to enemy mobile artillery, and can quickly tear through their lines. Skilled players will likely also have some AA in the vicinity, making bombers more favourable. Being able to do all their damage at once allows them to destroy the threatening artillery, and then fly away before enemy AA can finish them off. The low health of the artillery should allow air units to pick them off quickly, without having to destroy the AA itself.
Ironically, one of the best counters to enemy mobile artillery is having some of your own. While the enemies' attention is elsewhere, a small contingent of your artillery can make short work of theirs. Artillery emplacements are a reliable defense against mobile artillery, being able to outrange them, regardless of tech level.
In certain circumstances, naval forces can make short work of land-based artillery, due to equally large range, higher health, and superior manoeverability and accuracy. No mobile position can hope to withstand bombardment from equivalent naval units. Their high costs and build times can be prohibitive as a responsive countermeasure however, so some should always be kept in reserve, should the need for them arise.
Ironically, against single targets, all of the T3 mobile artillery units have comparable dps to the Seraphim T1 Mobile Light Artillery .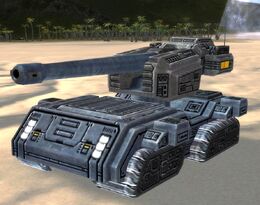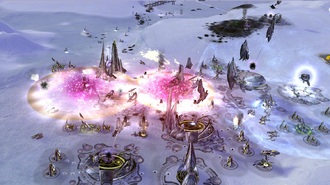 Community content is available under
CC-BY-SA
unless otherwise noted.