Tech 2 Air Unit
Fighter/Bomber
Torpedo Bomber
Gunship
Air Transport
Guided Missile
Gunships
Tech 1 Light Gunship
Tech 2 Gunship
Tech 3 Heavy/AA Gunship
Experimental
UEF T2 Gunship:  Stinger

Light gunship. Equipped with one riot gun and a single transportation clamp.[ e ]
Build costs
 

-6000


 

-300


2000
Max health
1100
Speed
Fuel
12 (Air)
6:40
Veterancy
6 ( +2/s)
Intel (radius)
Vision: 32


Direct Fire - Projectile

Damage per second
60
Projectile damage
20
Rate of fire
3 Projectiles/s
Range
22

Death

Damage
100
Damage radius
1
Cybran T2 Gunship:  Renegade
Fast-attack copter. Armed with twin rocket tubes.[ e ]
Build costs
 

-6000


 

-300


2000
Max health
1040
Speed
Fuel
12 (Air)
6:40
Veterancy
6 ( +2/s)
Intel (radius)
Vision: 32


Direct Fire - Projectile

Damage per second
60
Projectile damage
20
Damage radius
3
Salvo size
3 Projectiles (in 0.4 s)
Reload time
1 seconds
Range
22

Death

Damage
100
Damage radius
1
Aeon T2 Gunship:  Specter

Armored gunship. Quad-barreled light laser mounted on its underside.[ e ]
Build costs
 

-6000


 

-300


2000
Max health
1060
Speed
Fuel
12 (Air)
6:40
Veterancy
6 ( +2/s)
Intel (radius)
Vision: 32


Direct Fire - Projectile

Damage per second
65
Projectile damage
13
Salvo size
4 Projectiles (in 0.3 s)
Rate of fire
1.3 salvos/s
Range
22

Death

Damage
100
Damage radius
1
Seraphim T2 Gunship:  Vulthoo

Heavily armored gunship. Armed with four heavy Phasic autoguns.[ e ]
Build costs
 

-6000


 

-300


2000
Max health
1080
Speed
Fuel
12 (Air)
6:40
Veterancy
6 ( +2/s)
Intel (radius)
Vision: 32


Direct Fire - Projectile

Damage per second
30
Projectile damage
12
Salvo size
2 Projectiles (in 0.1 s)
Rate of fire
1.3 salvos/s
Range
22

Death

Damage
100
Damage radius
1
T2 Gunships are air units which make use of air-to-ground weaponry to provide support for an army or raid an opponent's undefended mass extractors. Gunships can also be used to perform a direct frontal assault on enemy bases, but this is generally a bad idea as Flak Artillery and air-based anti-air solutions are extremely effective at destroying them.
The Stinger utilizes a Hells Fury Riot Gun and features a transport clamp (which can carry a single tech 1 or tech 2 unit). This allows it to carry a Mech Marine for constantly increased DPS, or Sky Boxer to deploy into anti-air. It can also be used to ferry an army across obstructing bodies of water in-situ. It also features the highest armor level of any T2 gunship.
The Renegade has the weakest armor of all of the gunships, however it is equipped with an Iridium Rocket Pack capable of dealing larger amounts of area damage, making it perfect for attacking clusters of units and shield-less bases.
The Specter has average armor but it's weapon features both a slightly higher DPS and the fastest ROF of all of the gunships. It is thus reasonably effective in most combat situations.
The Vulthoo has the second highest armor of all gunships. It's weapon characteristics are similar to the Aeon's and thus has similar applications. Since the Seraphim lack a T3 Gunship, this ship is essential even into tech 3.
However, since it has no transport clamp, equal DPS, and less health, the Vulthoo is, like the Aeon T1 Attack Submarine, weaker but just as expensive as it's UEF counterpart.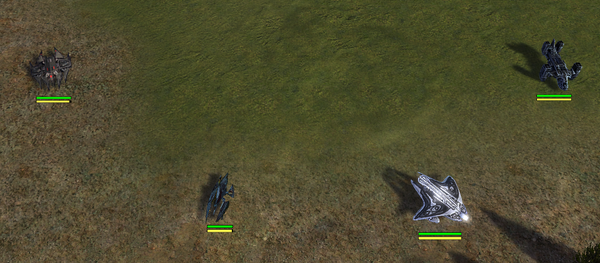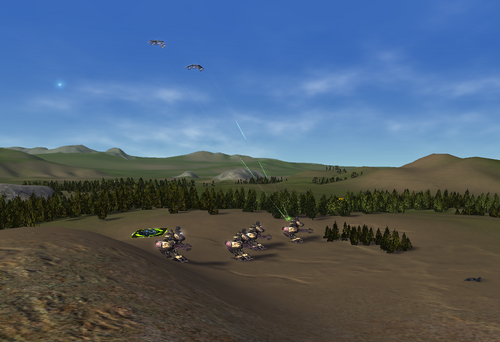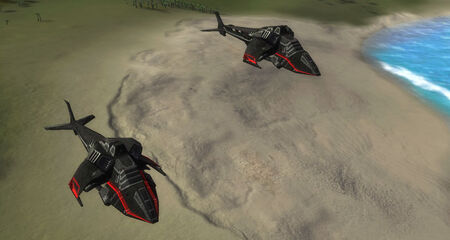 Community content is available under
CC-BY-SA
unless otherwise noted.