Tech 2 Air Unit
Fighter/Bomber
Torpedo Bomber
Gunship
Air Transport
Guided Missile
Fighters
Tech 1 Interceptor
Tech 2 Fighter/Bomber
Tech 2 Combat Fighter
Tech 3 Air-Superiority Fighter
Bombers
Tech 1 Attack
Tech 2 Fighter/Bomber
Tech 2 Torpedo
Tech 3 Strategic
Other
UEF T2 Fighter/Bomber:  Janus

Combination fighter/bomber designed to engage both land and aerial units. Armed with linked AA railguns and heavy napalm carpet bombs.[ e ]
Build costs
 

-8400


 

-420


2400
Max health
1200
Speed
Fuel
15 (Air)
8:20
Veterancy
6 ( +2/s)
Intel (radius)
Vision: 32
Radar: 65


Anti Air - Projectile

Damage per second
75
Projectile damage
75
Reload time
1 seconds
Range
30

Bomb - Bomb

Damage per second
120
Bomb damage
150  (2.5s DoT)
Damage radius
2.5
Salvo size
8 Bombs (in 1.05 s)
Reload time
10 seconds
Range
45

Death

Damage
200
Damage radius
1
Cybran T2 Fighter/Bomber:  Corsair

Combination fighter/bomber designed to engage both land and aerial units. Armed with Nano Dart launcher and separate missile launcher.[ e ]
Build costs
 

-8400


 

-420


2400
Max health
1100
Speed
Fuel
15 (Air)
8:20
Veterancy
6 ( +2/s)
Intel (radius)
Vision: 32
Radar: 65


Anti Air - Projectile

Damage per second
54
Projectile damage
38
Salvo size
4 Projectiles (in 0.6 s)
Reload time
2.8 seconds
Range
30

Direct Fire - Projectile

Damage per second
120
Projectile damage
150
Damage radius
2
Salvo size
8 Projectiles (in 0.35 s)
Reload time
10 seconds
Range
45

Death

Damage
200
Damage radius
1
Seraphim T2 Fighter/Bomber:  Notha

Combined fighter/bomber. Armed with two AA weapons and a tactical bomb.[ e ]
Build costs
 

-8400


 

-420


2400
Max health
1175
Speed
Fuel
15 (Air)
8:20
Veterancy
6 ( +2/s)
Intel (radius)
Vision: 32
Radar: 65


Anti Air - Projectile

Damage per second
75
Projectile damage
25
Salvo size
3 Projectiles (in 0.2 s)
Reload time
1 seconds
Range
30

Bomb - Bomb

Damage per second
118
Bomb damage
1175
Damage radius
3
Reload time
10 seconds
Range
40

Death

Damage
25
Damage radius
1
The T2 fighter/bomber units are, as the name implies, both fighter and bomber units combined. Every faction except for the Aeon has a T2 fighter/bomber. The Aeon, instead, have a T2 version of interceptors.
UEF and Seraphim T2 Fighter/Bombers are very generous units by a long shot. You get what you pay for with interceptors, air-superiority fighters, attack bombers, gunships, strategic bombers and other forms of air, but it is important to stress that you get more than what you pay for with UEF and Seraphim T2 Fighter/Bomber units. A single fighter/bomber can do what four interceptors can do, and what four T1 attack bombers can do for less expense, especially in energy consumption. They are equipped with radar as well, and have a slightly better gun range and line of sight than interceptors. When it comes to airspace defense, the performance difference from Tech 1 to Tech 2 is hard to miss. Once you get your first Tech 2 air factory, switch production to fighter/bombers immediately.
UEF and Seraphim Fighter/Bomber units can also find usage in tech 3. When used correctly, they can take on air-superiority fighters and easily rival strategic bombers, which have an insane energy cost.
The UEF and Seraphim Fighter/Bombers are much more versatile than the Aeon Combat Fighter, being able to serve as both a T2 Fighter and T2 Bomber (which the Aeon lack completely) in a single unit. They are however much more expensive than the Aeon Combat Fighter, making them less cost-efficient for achieving Air Superiority over an Aeon opponent.
Some think that a Cybran T2 Corsair is not efficient against other air units. Because it has a third of the anti-air DPS of other fighter/bomber units, they say it cannot do what UEF and Seraphim fighter/bombers can do when it comes to fighting capabilities. They think that this makes Tech 3 air-superiority fighters more important for the Cybran. However, the Corsair uses a homing missile weapon against air units, giving it an extremely high hit rate compared to its T2 counterparts (this is not true in Forged Alliance, as projectile Anti-Air hit rates were dramatically improved); this accuracy makes its effective DPS much closer to the other two in air-to-air combat (as the weapons of the other two can and do miss). This homing ability is lost when targeting ground units; however their ground projectiles all hit one spot and travel extremely fast, giving them much higher ground accuracy while having the same ground DPS. They are very good at sniping for this reason. The faster projectiles are especially useful for sniping enemy ground-based Anti-Air assets, as a sufficient number of Corsairs can destroy the ground-based Anti-Air asset nearly as soon as it begins shooting at them, thereby taking almost no damage. This, combined with the fact that rockets land all around the target and have a decent area of effect radius means they also tend to deal their damage over a fairly decent area, making them superior to their UEF and Seraphim counterparts as ground-attack units.
The UEF Janus is basically what happens when you take a Cyclone and a Scorcher, make them better, and then put them together. Its has, not surprisingly, the highest HP of the other two fighter/bomber units. Rather than dropping one bomb, it drops several ones in two rows, making it perfect for damage over a wide area, but not highly effective against units with higher health, like an ACU. With damage over time, units that are out of range of the bomb can accidentally move into range and get damaged themselves. Therefore, the Janus is probably the best unit for taking on groups of T1/T2 units. The Janus has the weakest AA of the three fighter/bombers due to projectiles missing.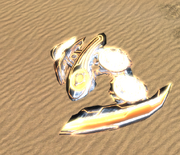 The Seraphim Notha releases all its damage output in one bomb, rather than having it spread over several bombs. This makes it the best fighter/bomber for sniping/attacking stationary targets, like Mass Extractors or T2 power plants. Note however that its bombing accuracy is affected by same targeting bug that affects all the strategic bombers, meaning that it will often miss the intended target by a sizable margin on its first pass (tested in version 3606).
If you are able to build these, you are able to build air staging facilities. They cost substantially less than any fighter/bomber and will save you lots of mass in terms of being able to repair your planes instead of building new ones.
Because of radar capabilities, attack capabilities and a better fuel supply, fighter/bomber units are much better for patrolling your base, and should replace most if not all of your defensive interceptors and attack bombers ASAP.
Fight/Bombers make good use of Tech 2 base defence, as many groups of a Fighter/Bomber with two intercepter escorts make very good patrols during Tech 2 and can even fare well into Tech 3. 
As aforementioned, some think that Corsairs are not well suited for taking on other fighter units. As also aforementioned, the Corsair's accuracy (with homing missiles) makes its effective DPS much closer to its counterparts and others think it is a perfectly competent unit for taking on other fighter units. The weaknesses of T2 fighter/bombers that most can agree on can be found below.
Concerning fighter/bomber units in general, their fuel supply, while greater than the fuel supply of Tech 1 air units, is not great enough to justify long-term usage away from air-staging facilities. They lack the speed of combat fighters and other higher tech units, making them ill-suited for chasing down anything but Tech 1/Tech 2 units, but they don't suffer from the illness of being too fast as ASFs sometimes do. Thus, they should still be kept around in numbers as secondary defense units, mostly to hit the stragglers that your ASFs didn't get (usually gunships and transports) or any land units that are out of point defence range. When used this way, you can bring your ASFs much less damage and overall bringing down the cost on your economy. 
Like most Tech 1 and 2 air units, It is highly recommended to avoid flying over T2 AA Flak defenses. However, Fighter/Bombers (Especially the UEF Janus) display a remarkable resistance to T2 Mobile Flak.
The UEF Janus is likely named after the Roman god of choices, beginnings, endings, and doors and is usually depicted with two connected heads facing opposite directions. It is probably named as such due to the fighter/bomber possessing two "faces" with its dual role.
The Janus has a variable-geometry wing, meaning that it changes shape in flight. In normal flying, the wings extend out normally.  When engaged with enemy aircraft at close range, the wings sweep forward, giving the aircraft a trident-like appearence.  This would most likely be a feature to increase the aircraft's ability to turn harder at speeds.
The Janus does not appear in the unit list that comes with Supreme Commander for the PC. This is because Fighter/Bombers, as well as the Aeon Mercy, were only added as of the update associated with version r3260, leading up to the release of Forged Alliance.
Community content is available under
CC-BY-SA
unless otherwise noted.