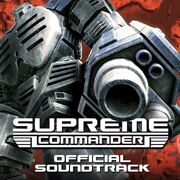 The
Supreme Commander Official Soundtrack
, featuring the music from
Supreme Commander
is only available as a download-only album on DirectSong
[1]
. The music is in DRM-free MP3 format at 320 kbit/s. Included with the download, is the soundtrack cover, should the user chose to burn the CD, and print out a cover for his CD case. Shortly after the release of
Forged Alliance
in November 2007, additional tracks from the expansion appeared on the album at no extra charge to anyone who purchased the album. Tracks 24 and after are all from Forged Alliance, adding almost 40 minutes of playtime.
The score for Supreme Commander was composed by Jeremy Soule, who is most famous for his compositions for the w:c:Guild Wars series, The Elder Scrolls III: Morrowind, The Elder Scrolls IV: Oblivion, and The Elder Scrolls V: Skyrim. Jeremy Soule also composed the music for the game's spiritual predecessor, Total Annihilation. Throughout the soundtrack, the music is consistent in that there is an epic feel to all of the tracks, while having them all of the same musical style. The main theme to the game, can be heard in at least half of the tracks, and is heavily present in the tracks Risk, Relief and Victory, An Old Idea Made New, The Final Cataclysm, and The Future Battlefield (E3 Trailer). During the game, the music changes dynamically to best try to match the feeling of the current game. For example, if the player is all alone developing his base, then a calm music will play. If however he is currently hosting a massive battle, then the music will switch to a battle theme. Just like Starcraft, the music heard in game also depends on your faction, as each have their own theme.
Although Supreme Commander's E3 2006 trailer theme is present on the soundtrack, Forged Alliance's E3 2007 Trailer isn't.
Tracklist
Edit
Supreme Commander Tracks
#
Title
Notes
Length
1.
"Bellum Infinitus"
Theme from Supreme Commander
1:23
2.
"The Final Act Begins"
Opening movie theme
3:01
3.
"An Old Idea Made New"
UEF theme
2:31
4.
"United Earth Federation"
UEF theme
3:47
5.
"Risk, Relief and Victory"
6:24
6.
"The Cybran Nation"
Cybran theme
2:23
7.
"Symbiont Legion Rising"
Cybran theme
2:38
8.
"Dead Grounds"
2:14
9.
"Employed Strategy"
2:33
10.
"The Winds of Change"
Battle theme
2:00
11.
"One Planet at a Time"
3:08
12.
"The Aeon Illuminate"
Aeon theme
2:22
13.
"Followers of The Way"
Aeon theme
2:51
14.
"Clash of the Champions"
Battle theme
3:23
15.
"A Cloudy Path"
2:10
16.
"Enlightenment"
2:45
17.
"Massive Attack"
Battle theme
5:25
18.
"The Final Cataclysm"
Battle theme
3:02
19.
"There Will Be Peace"
Ending movie theme
1:27
20.
"The Future Battlefield"
E3 2006 Trailer
3:47
21.
"Build Music (Bonus Sketch)"
1:49
22.
"Battle Music (Bonus Sketch)"
1:14
23.
"The Tip of Our Spear (Bonus Sketch)"
2:04
Supreme Commander Forged Alliance Tracks
#
Title
Notes
Length
24.
"Visitors from the Quantum Realm"
Forged Alliance Opening movie theme
3:23
25.
"Colonial Defense Coalition"
1:09
26.
"The Art of War"
2:16
27.
"Rise of the Seraphim"
3:13
28.
"Revenge is a Dish Best Served Cold"
3:11
29.
"Supreme Commander Reprise"
guitar solo by Jason Evigan
2:06
30.
"Brackman's Strategy"
2:27
31.
"Cybran Razors"
guitar solo by Jason Evigan
2:05
32.
"Aeon Aggressors"
2:29
33.
"Rhiza's Offensive"
2:25
34.
"Seth-Iavow's Inner Sanctum"
3:28
35.
"An Approaching Darkness"
2:11
36.
"Seraphim Unleashed"
2:05
37.
"The Princess Seals the Deal"
Forged Alliance ending movie theme
0:57
38.
"An Old Friend Returns"
0:33
39.
"Supreme Commander Reprise"
sans guitar
2:07
40.
"Cybran Razors"
sans guitar
2:05
See Also
Edit
The full Wikipedia article, including music excerpts and additional details.
Community content is available under
CC-BY-SA
unless otherwise noted.