Supreme Commander is a RTS game designed by Chris Taylor and Gas Powered Games, set in a far future world. Although it was designed by Chris Taylor, it is not a sequel to his previous RTS, Total Annihilation, but rather a "spiritual successor", which implements the same gameplay mechanics and physics logic which was pioneered in Total Annihilation.
Since the release of Forged Alliance, it has been referred to as Vanilla SupCom, the Old SupCom or Classic SupCom.
Trailer
[
]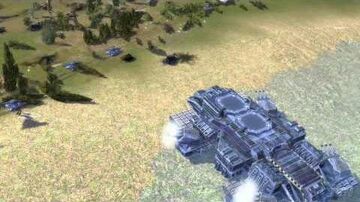 Opening cinematic
[
]
System requirements
[
]
Supreme Commander has somewhat steep system requirements. The official minimum and recommended system requirements, as well as the community suggested requirements are:
Type
Minimum Requirements
Recommended Requirements
Community Recommended
Operating System
Microsoft Windows XP Service Pack 2 or Vista
Microsoft Windows Vista
Microsoft Windows 7
Memory
512MB of RAM
1 GB of RAM
4 GB of RAM
CPU
1.8 Ghz Processor
3 Ghz Intel or equivalent
2.8+ Ghz Intel Core i3/5/7 or eq.
Video Memory
128 MB video RAM
256 MB video RAM
512 MB of video RAM
Video Requirements
DirectX 8 Vertex Shader / Pixel Shader 2.0 support
(Nvidia 6x00 or better)
DirectX 9 Vertex Shader / Pixel Shader 2.0 support
(Nvidia 6800 or better)
Nvidia 9800 or better
Networking
DSL/Cable
Broadband connection
ADSL2+

256 kbit/s upload

Hard Disk
8 GB
10 GB
12 GB
Note: Official recommended settings are not guaranteed to let the player run the game at full hardware settings with no lag. Community settings will allow the game to run at full settings on most maps. Optimal setting will provide maximum detail gameplay in most situations. Extra large maps, during heavily congested gameplay, or after modding and in multiplayer the system requirements may increase.
Steam release
[
]
Following the closure of GPGNet[2], both Supreme Commander and Forged Alliance were released for free on Steam to anybody holding a CD key.[3]
Following its closure, the Steam version has included new matchmaking support, and all other Digitally Distributed versions have been patched to the steam version.
Below is the note from GPG at that time:
"On March 1st, 2012 GPG was notified that support for GPGNet's backend services had been terminated. We apologize to our fans and players that we were unable to provide any advanced warning of this termination. After several weeks of inquiries, we have determined that resurrecting GPGNet will not be possible under current circumstances.

GPG was able to receive authorization from our publishing partners to grandfather ALL existing CD keys for both SC and FA into updated SC:Gold Editions on Steam. This means that even if you purchased only SC or FA in a boxed version, you can now redeem that key for BOTH games automatically updated to version 3603 utilizing Steam, and also take advantage of Steam's integrated matchmaking and chat services for free.

We understand that not all of the functionality you were accustomed to in GPGNet is present on Steam, naturally we were huge proponents of the innovations we created, but we encourage you to give Steam a try and get involved in the SC/FA community there.

As an alternative to Steam, there are significant community-driven initiatives for matchmaking services already operating. Among them at present, is FA:Forever (http://www.faforever.com/), which has built a strong following of fans and modders looking to extend features and matchmaking of the game.

These forums themselves are wholly owned and operated by GPG, and we hope players and fans will continue to use them to communicate, coordinate, and collaborate for many years to come.

GPG would deeply like to thank all the volunteers, admins, moderators, and tournament directors who have kept GPGNet running smoothly for so many years, and the fans who have been patient and understanding in the times when it wasn't.

Although this chapter is now closed, there is always the possibility that future discussions with publishers could open the door to resurrecting the platform in an updated fashion, and we will be keen on promoting the innovations that worked well for us."[3]

—The GPG Team. 02 Mar, 2012.
Updates and patches
[
]
Patches can be downloaded from various third party websites, or through different digital distribution platforms, as all past keys issued with physical copies of the game have since been made redeemable on Steam.
Until the closure of the GPGNet service, the primary way to obtain official patches was by running the GPGNet software, either from the start menu or from within the game. This would automatically update the game and the GPGNet software to the latest versions of each.
See also
[
]
References
[
]