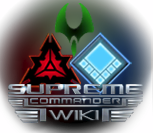 Welcome to the Supreme Commander Wiki
NOTICE: GPG Net for SC:Vanilla and FA is now offline, visit the GPG forums (web.archive.org) for more information. If you wish to play multiplayer Forged Alliance visit Forged Alliance Forever, a free option for FA multiplayer, and also contains mods, new maps, ranking ladders, cooperative campaign, among other things.
NEWS: The Nomads has been released on Forged Alliance Forever for public use. There is now a fifth faction. Pages will be added to accommodate their arrival, and their continuation of the Infinite War.
Gameplay contents
| | |
| --- | --- |
| Game analysis | Units and Locations |
| Universe | Factions |
Supreme Commander internals
Contributing
If you have a copy of Supreme Commander or Supreme Commander Forged Alliance, we need all the help you can give in the form of unit analysis, screenshots, and strategy information! This wiki needs your help! Please contribute what you know. To get started, see:
Adding content
Talk and more...
Check out the community portal to see what the community is working on, to give feedback or just to say hi.
Latest activity
Community content is available under
CC-BY-SA
unless otherwise noted.