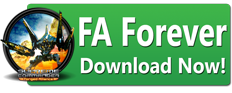 Forged Alliance Forever (found at faforever.com) is a community driven lobby system that offers several features including playing multiplayer in Supreme Commander: Forged Alliance. It is described as similar to GPG.net, the original multiplayer client to Forged Alliance. Since the shutdown of GPG.net and the discontinuation of support for the original game, Forged Alliance Forever seeks to ensure that the game will "live on... forever."
As of 2020, Forged Alliance Forever continues to be supported by fan volunteers who actively maintain the community, add unofficial patches, maps, and mods, and release regular content.
Features
[
]
Updated game. FAF is not only a lobby, and it's not a mod: We are constantly adding features, graphics and sounds enhancements, bug fixes and balance patches to the game.
Modded Game Modes. When making a game, FAF allows the host to set a gamemode that will change how games are played. One can choose gamemodes such as Phantom-X, which sets all the players up in a style reminiscent of Trouble in Terrorist Town.
Active development. GPGNet is dead. Steam version won't be updated. FAF is under active development to continually add new and exciting features, and ensure that any bugs discovered will be quickly dealt with.
Longevity. FAF is a community-supported project, and already has funding to support its server for several years.
Cooperative campaign. The solo mode of Supreme Commander and Forged Alliance (a total of 24 missions) are playable with up to four players in cooperation! Fight for the best time in the speed-run leader board !
Live replays are always on and always working, with a 5-minutes delay to remove the possibility of cheating during tournaments or ranked games.
Exciting new game modes such as the Nomads (an entirely new playable faction), Experimental Wars (adds many new units to the game), Black Ops, Murder Party, LAB WARS, Phantom X, and many more featured mods. All are integrated directly into the client so it's easy to setup a game with others, and even come with their own Leader boards.
Automatic patching. This means you will have the latest patch without any sweat. The client can also downgrade immediately to see older replays.
TrueSkill rankings for both ranked 1v1 and all custom games. TrueSkill is a vastly superior rating system which can accurately take into consideration 2v2s, 3v3s, 4v4s, FFAs, and any other game type.
Responsiveness. Chat is fast, unlimited, and can be joined with any IRC client, even on your smart-phone. FAF is designed from the ground up to be lightweight, responsive, and efficient.
Up to 16 player games. 5v5 to 8v8's are possible on FAF.
Non-destructive patching. It patches the game separately from your current installation. That means that you can continue to use your original game and FAF concurrently – they do not "overwrite" each other.