Tech 1 Air Units
Scout
Interceptor
Attack Bomber
Light Air Transport
Light Gunship
Bombers
Tech 1 Attack
Tech 2 Fighter/Bomber
Tech 2 Torpedo
Tech 3 Strategic
Other
Aeon T1 Attack Bomber: Shimmer[e]

Lightly armored bomber. Armed with a Chrono bomb that destroys and disables targeted units.
Build Costs

-2250


-100
500
Max Health
205
Speed
Fuel
10 (Air)
6:40
Veterancy
3 ( +1/s)
Intel (Radius)
Vision: 32
Radar: 65


Bomb - Bomb

DPS
100
Bomb  Damage
Damage radius

200
4

Reload time
2 seconds

Range
40

Death

Damage
Damage radius

100
1

The Aeon T1 Attack Bomber, nicknamed the Shimmer, is an Aeon unit. This is a bomber. More powerful than UEF and Cybran Tech 1 Bomber payloads, although possessing a smaller AoE, the Shimmer's Chrono Bomb momentarily stalls the enemy, making this unit, like all attack bombers, much more effective in groups.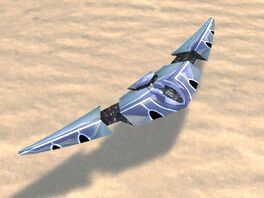 Community content is available under
CC-BY-SA
unless otherwise noted.